A Canadian man-child of indeterminate age, he stays young by selling alcohol at sporting events and yelling at the patrons he serves. Their rage nourishes his soul, and their tips pay for his numerous trips to various sporting events.
Latest posts by Beerguyrob (see all)
NFL Nuggets:
Actual good news: Fitty's coming back for a 16th season. 

He signed a one-year deal with the Cardinals.
He is second all-time in receiving yards (behind Jerry Rice) and receptions (behind Tony Gonzalez).

He's only 23 receptions behind Tony G, but 6,000 yards behind #80.
Two days in a row, I'm stealing from Crimebeat!

Saints CB PJ Williams was arrested for DWI in New Orleans.

He also faces excessive speeding charges, for doing 80 in a 50 zone.

It's also his second DWI, but that one was picked up before the draft (and the charges were later dropped).
Tumult in Dallas as Cole Beasley drops accusations the front office pushes who gets the ball, and that influences play calling.

He claimed he gets more throws during two-minute drills when there is no script & things happen on the fly.

Otherwise, according to him, he only gets 3-4 directed passes per game.
Honestly, the front office pushes who they want to get the ball to. I haven't been a huge priority in that regard. Maybe that will change but I'm not sure. More balls come my way in 2 minute drill where nothing is planned. https://t.co/ioih9BJJv1

— Cole Beasley (@Bease11) January 22, 2019
•   Which led to this speculation: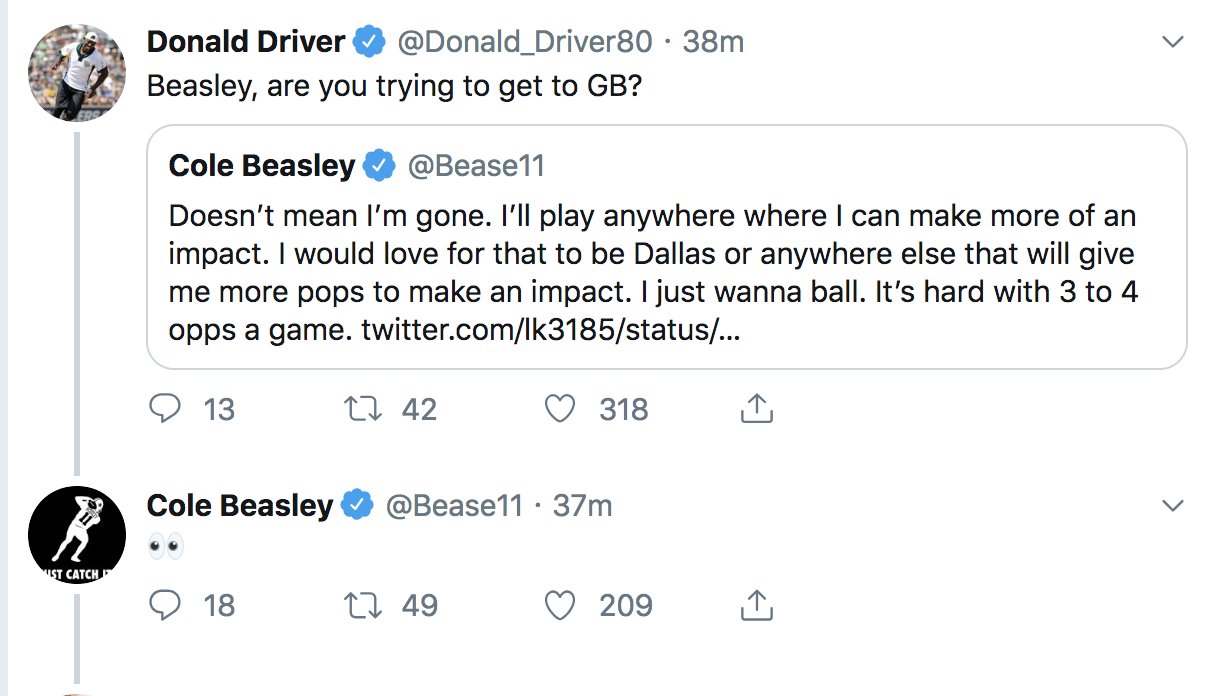 •   …and now he's walking back the comments.
•   probably because his current benefactor, Stephen Jones, had this to add to the conversation:
"We don't get involved in that. The only thing we ever do is decide if we're going to pay players a lot of money. Or if we're going to trade for players and give up big picks."
That's why they're called "nuggets", folks.
---
In response to a query posed by Unsurprised last night:
I'm still up because I suck, but anyway, this post-season seems to have murdered the site. I don't care about the NFL, but come the fuck on, folks. This is a good site with good content and people.
I will offer up that:
You don't suck; and
We've never been more popular than right now, thanks to everyone old and new.
As the self-appointed monitor of our Alexa stats, as of yesterday we rest here:
While that might not look like much, remember that a lot of those numbers are porn sites. If you look at the chart, back in early July, we sat at 425,000th, and have since been making steady progress towards some form of legitimization.
So while we aren't Deadspin (2,793), Pornhub (29), or The Old Place (5,876), we are having a good time being ourselves, and other people are coming along for the ride. Many, many thanks again to all who read and contribute to the site.
---
Tonight's sports:
NHL:

Capitals at Leafs – 7:30PM | NBCSN / Sportsnet
Coyotes at Habs – 7:30PM | Sportsnet1
Predators at Golden Knights – 10:00PM | NBCSN

NBA:

Raptors at Pacers – 7:00PM | TSN
Spurs at 76ers – 8:00PM | ESPN
Nuggets at Jazz – 10:30PM | ESPN

NCAA:

Providence at Xavier – 6:30PM | FS1
Tennessee at Vanderbilt – 7:00PM | ESPN2 / TSN2
Texas at TCU – 7:00PM | ESPNU
DePaul at Marquette – 8:30PM | FS1
Oklahoma at Oklahoma State – 9:00PM | ESPNU
This week is awful. There's fake hype for the Professional Bowl, faker hype for the Senior Bowl, and Peter King trying to turn those turds into Skyline Chili.
I'M NOT HAVING IT!