I sat on a jury years ago, 2nd degree attempted murder case. One day the defendant wore sneakers with his suit to court. It was that day I knew he was guilty.
Latest posts by blaxabbath (see all)
FIFA Rank:  14th.  So, right of the bat here, a country you may have mocked as even having a national soccer team is actually better globally than the Jets/Browns/Colts/Cardinals/Bears/Bucs/49ers are in the NFL.
World Cup Group: G (along with England, Belgium, and Panama).
Hey, How'd They Get Here?:  Direct from the FIFA World Cup TrumpRussia team page, "Tunisia booked their return to the FIFA World Cup after a 12-year absence, topping Africa Group A, to head to their fifth edition of the tournament." That's how you write a informative and succinct statement, [DFO] interns.
Hey, How Are The Tunsians At This World Cup Thing?:  In four World Cup appearances, Tunisia has never advanced out of the group stage. As a sports/fart/dickjoke/tits site, one might expect our writers to bag on Tunisia for these stats. Fortunately, this writer understands that his team is the United States and, since I'm not in Bristol, I know I haven't a leg to stand on ripping on the 14th ranked team in the world heading into the tournament while team USA watches from…well, I don't know where they are but I'll tell you where they should be — out fucking folding laundry for USWNT and scrubbing the jock straps for USA Basketball.
What Players Should I Look For?: Per the BBC, Wahbi Khazri, Mohamed Amine Ben Amor, Ali Maaloul and Naim Sliti are a "star quartet" which sounds pretty good. Now I may need some backup from some of you who follow the Saturday morning threads around here, but I understand a few Tunisia players are in the French and English top leagues while the rest make their scratch in the rough and tumble leagues of France's lower divisions as well as Turkey, Saudi Arabia, and Egypt.
Any Cool Nicknames?:  The Eagles of Carthage.  Eh, it's been done but at least this one is specific.
How Are The Fans?: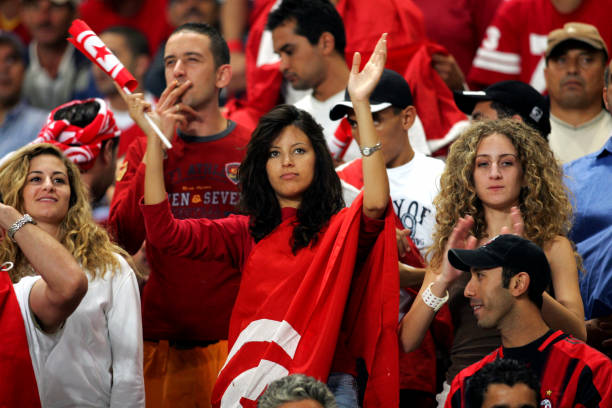 How Are The Tunisians Going To Do?:  Tunisia reached the World Cup by conceding just four goals in an undefeated run against Congo, Libya and Guinea. Unfortunately, they are not playing in Russia against shithole countries and, instead, look unlikely to advance in a group with the #3 team (Belgium) and an experienced England (#13 ranked) side. Then again, Tunisia does open group play against the Brits and we all know how they like to leave the door open for lesser sides.
Things That Interest Hippo: Tunisia rocked a couple 2-2 draws against Turkey and Portugal a couple weeks back so…whatever the hell that means, I guess. Panama sucks donkey balls so, if you're spreading the wagers around, Group G is really just a three team race so Tunisia could backdoor to the elimination round. Then again, you can also get 8/1 odds on No Tunisia Goalscorer being their top tournament scorer. So something for all the degenerates!
Editor's Note: We have a World Cup Pool!! Please click the link below to sign up:
https://www.pooltracker.com/join.asp?poolid=149105
The pool password is "Balls"
As always,  there will be a fabulous prize given to the winner.  Join today!!