A Canadian man-child of indeterminate age, he stays young by selling alcohol at sporting events and yelling at the patrons he serves. Their rage nourishes his soul, and their tips pay for his numerous trips to various sporting events.
Latest posts by Beerguyrob (see all)
Everyone in North America has a holiday today except British Columbia and whoever drew the short-straw in the Wal-mart employee break room. My condolences to myself & the others in this circumstance.
I was all set to go back to doing a preview of NFL News, and then I saw this:
I know it's parody and the Sklar Brothers, neither of whom/which are very funny, but still: Fuck you! and NO!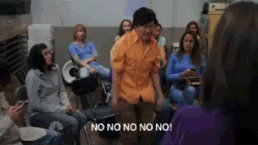 NFL Free Agency kicks into gear March 7-9, so I'll probably get back to the round-up aboot then.
[Fun fact: why trying to get my computer to accept "aboot" as a spelling, I ran across this image which fits nicely with Senor Weaselo's post from Sunday about Pokemon. I'mma just going to leave that on the right side of the page.]
---
President's Day:
As of today, President Trump has equalled the shortest term in office – 31 days – set by William Henry Harrison, who died from the pneumonia he caught while being sworn in. Next on the list is James Garfield at 199 days, who was shot 3 months and 28 days into his term, and died of incompetence & lead poisoning 79 days later – 6 months and 15 days into his term.
Fifth on that list is Warren Harding, who died 2 years, 4 months, and 29 days into his term. When Trump got elected, this was the president who I felt would eventually parallel Trump's time in office. NO, SECRET SERVICE, I DON'T HOPE HE DIES! Rather, my understanding of American history drew me to these parallels:
both won a seemingly popular-among-the-fanbase election
both had a far-more-competent-than-him running mate
each candidacy was lukewarm in the press, even among Party-supported papers
Harding ran a "front porch" campaign, whereas Trump flew his front porch to meet people
Harding's campaign slogan was "Return to Normalcy", advocating a US withdrawal from world affairs in the post-WWI era. We all know what "#MAGA" means.
Finally, a typical Harding campaign speech was referred to as "an army of pompous phrases moving over the landscape in search of an idea. Sometimes these meandering words actually capture a straggling thought and bear it triumphantly, a prisoner in their midst, until it died of servitude and over work."
Once elected, Harding vowed to consult the "best minds" in order to appoint only the best candidates as his cabinet & advisors. Much like Trump, he appointed officials to lead departments they had been opposed to when in private life. Harding's famous appointee in this manner was Albert Fall as Interior Secretary, a farmer & miner who opposed conservation on "Manifest Destiny" grounds. He became famous for the "Teapot Dome" scandal, over the Department granting favourable & untendered drilling leases to friends of his. During hearings into the scandal, he uttered the immortal line:
"Sir, if you have a milkshake and I have a milkshake and my straw reaches across the room, I'll end up drinking your milkshake."
which was borrowed for "There Will Be Blood", along with a solid mustache game.
We are only 31 days into the Trump presidency. I'm sure there will be bigger scandals than Michael Flynn, hopefully involving Russians.
---
Tonight's sports: Hope you like college hoops!
NHL:

Florida at St. Louis – 8:00PM | Sportsnet / NHLN-US, FS-MW, FS-F
Anaheim at Arizona – 9:00PM | Sportsnet1 / FS-A
NCAA:

Men: highlighted contests

Miami at Virginia – 7:00PM | ESPN
Texas at West Virginia – 9:00PM | ESPN

Women:

Maryland at Ohio State – 7:00PM | ESPN2
Baylor at Texas – 9:00PM | ESPN2
Curling:

Scotties Tournament of Hearts (Draw #7) – 7:30PM | TSN
WWE: RAW – 8:00PM | USA / Sportsnet360

apparently, we might be able to smell what someone might be cooking
last week, we saw friendship die a magnificent, Jannety-esque death
tonight, we will get an explanation (and Wrestlemania set-up) from the dastardly & former best friend, Kevin Owens.
It should be glorious.
GLORIOUS!
(All presidential terms & factoids from Wikipedia,because I was lazy)