A Canadian man-child of indeterminate age, he stays young by selling alcohol at sporting events and yelling at the patrons he serves. Their rage nourishes his soul, and their tips pay for his numerous trips to various sporting events.
Latest posts by Beerguyrob (see all)
Yesterday, I raised the topic of the NHL's Eastern Conference, a.k.a. "the teams Gary Bettman wants to win the Cup". Today, it's the West, where dreams die upon the altar of the travel schedule.
Pacific Division:
Anaheim Ducks – by friend of Low Commander, Funky Brewmaster
For the first time in a few seasons, the Ducks are NOT the favorite for the Pacific Division. In fact, the early polls don't even have them making the playoffs. Well as a homer/Quacker…. I say "to hell with them!"
This team is not the same team as in the past. There are a ton of unknowns heading into the season. Some those include; a #2 center (will Kesler actually be ready for start of season and stay healthy!), a winger to play with Getzlaf and Rakell, and basically the entire 4th line. Oh, and Corey Perry being out for probably the entire year after tearing his knee up in practice. We talking about Practice…
It is troubling to me as a Ducks fan that they are going to rely heavily on prospects this year. I will admit, I haven't had time to study this group of young guys, but they do have a guy named "
Troy Terry
" and he scored 3 shootout goals against Vladimir Putin and Team Russia in the juniors game. I believe this team will somehow make the playoffs. I'm not sure how yet… but they will get it done. They do every year. Quack quack quack!
Arizona Coyotes  
Nobody likes them, especially the residents of the city they play in.

They are the least-valuable franchise in the league, according to Forbes. Their revenue per fan is just $12.

They are currently the leading candidate to become the new Seattle franchise, who might actually pay more to get a pure expansion team rather than buy this broken-down pile of garbage.

The other rumour is that, if they break their lease before December 31, 2018 & don't renew for 2019-20, the leading city for relocation is Houston.
Calgary Flames
An example of what happens when you make the playoffs, get bounced early, and think all the team needs is a "few tweaks" to get over the hump.

Spoiler: those "tweaks" end up ruining the team chemistry.

It would help if they had a goalie they could count on, not just in the playoffs but every night.
Litre_Cola – I live here,
and I hate when the Flames are good. They made a bunch of moves this offseason and I will be interested to see if they pay off. They brought in Bill Peters from Carolina to lead this crew after Glen Gulatzan failed miserably. The Flames also got rid of Douggie Hamilton who just wasn't the same player after the team traded his brother to the desert. The additions of James Neal, Noah Hanifin, Elias Lindholm, and Austin Czarnik should put this team back in the playoffs which is fun until they get stomped in 4 games by the Ducks.
I think Mike Smith is the same age as me but way more brittle. When he gets hurt again, and he will, the Flames are screwed.
I would love for them to get the wild card and have Winnipeg come in here and step on their throats.
Edmonton Oilers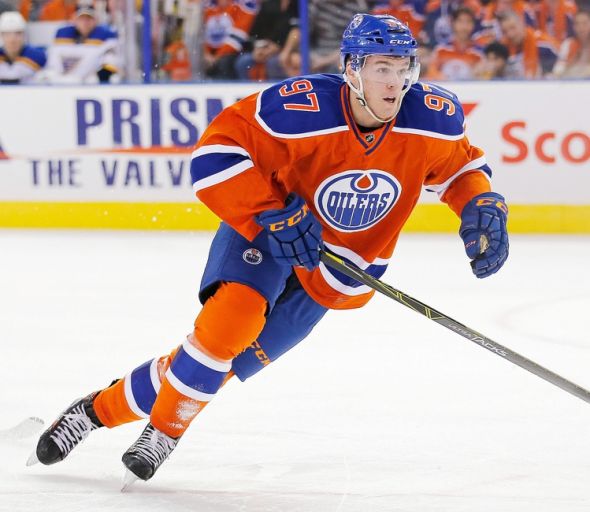 A bigger example of the "few tweaks" mentality – when you make the second round, get bounced by the eventual Conference champ, and then sacrifice one of your rising stars to make room for the needed "chemistry".

And that's how Taylor Hall ended up in New Jersey & leading them to the playoffs, and why Connor McDavid was home counting his money.

Stop me if you've heard this before – It would help if they had a goalie they could count on, not just in the playoffs but every night.
Litre_Cola – I am writing this from downtown Edmonton as we speak and the locals are fired up on their prospects this year. I don't see it. They have the best player in the world and nothing much n the back end. Their defence is shaky (4M a year for Russell? ) and if Talbot goes down they are screwed.
Los Angeles Kings – by BallsOfSteel
The Kings should contend again,  but will disappoint as they will finish somewhere in the 7th or 8th playoff spot and experience another first round exit.  Rinse and Repeat.
Going to a Kings game is a really fun experience though.  I'll probably go to a game or two this year to say hi to my friends.
True story: I belong to the Golds Gym in DTLA. Best gym in LA, btw. One of the reasons it's the best gym in LA is that they partner with the Kings. One year,  they held the Ice Crew tryouts at the gym.
OMG.
BTW, everyone connected with the Ice Crew is super nice and friendly.  In case you were wondering…
San Jose Sharks
Brent Burns, seen above meeting Erik Karlsson after the trade that brought him to San Jose, anchors a team that should have made the Cup final, were they not another smear in the face of the Vegas juggernaut last season.
Tomas Hertl (far left) & Joe Thornton (left) lead a veteran group of forwards into the upcoming season, and Martin Jones (right) should be rock-solid in net.
Vancouver Canucks  
The Canucks will finish last but blow their chance at the #1 pick.

They likely traded it away in the late-90s for a bag of pucks & another Federov sibling.

Here is an approximation of what it's like to be a Canucks fan these days:
Vegas Golden Knights
There's no way they can match last year's output, but should still be fun to watch.

They signed Max Pacioretty away from the Habs, which gives them three solid lines and a second-unit power play that should equal the firepower of the #1 unit.

Plus, the premium on making the Cup finals will really pay dividends for locals selling their tickets on the secondary market.
Wakezilla – This team went from a feel good story when they won their first game, to Cinderella team when they won in the first two rounds of the playoffs, to a team I can't stand. Fuck this team and its fanbase for making the Stanley Cup finals in their first year, and possibly returning this year. I'm sure their fanbase is going to be loyal to the team when they become terrible in 5 years time.
While I think the Knights will slightly regress, they are definitely still one of the cup favorites this year. Paul Stastny and Max Pacciorety are on the second line, which should see them score more goals as they won't be seeing the oppositions' top defensive paring. In short, fuck Patch for getting PK Subban traded, only for Patch to demand a trade under a year late.
/Wakezilla places pins into his Marc Bergevin voodoo doll and begins to weep
---
Central Division:
Chicago Blackhawks
They've got only 1-2 more years of the Toews-Kane-Keith combination, so they're pushing hard this year, especially after missing the playoffs last year, to the delight of every Western Conference city.

It doesn't make up for the fact that Corey Crawford got a case of the yips, and those don't ever go away.
Wakezilla – The only thing worse than this year's Chicago Blackhawks team is Chicago deep dish "pizza". Not only will the Hawks miss the playoffs for the second straight year, they're going to finish last in their division.
About 3 years ago, Jonathon Toews engrained it in his head that he should only focus on defense. This has hurt the Hawks immensely because his lack of offensive production has seen the Hawks collect a lot more losses. For Chicago to have any kind of success, Toews is going to have to live up to his $10 million/year contract and be more offensive by scoring a lot more than last year's total of 20 goals. The same goes for Brandon Saad, who was dogshit last year. With Debrincat and Schmaltz emerging as decent top 6 forwards, the Hawks may not be too far away from becoming contenders again in 2 or 3 years. However, the Hawks have a significant lack of depth on their bottom 6 forward lines. Combine this with a mediocre defense–including an increasingly slow Keith and Seabrook—and Corey Crawford out for an indeterminate amount of time due to a concussion, and the Hawks are likely going to be in the 'Lose for Hughes' sweepstakes.
Colorado Avalanche
An incredible amount of young talent on a team owned by Stan Kroenke, so I kinda feel bad about hoping they fail. But fail they must, because fuck Stan Kroenke.

While we're at it, fuck Dean Spanos too!
Wakezilla – Remember in the mid to late 90s when the Avs were a powerhouse and were almost unbeatable due to Mile High's thin air? Funny how that hasn't been part of the narrative since they became a poorly run franchise. Last year, Colorado over-achieved and made it to the playoffs thanks to Nate MacKinnon finally emerging as a superstar. There's no way they replicate that success this year.
In a division with Winnipeg, Nashville, Dallas and St. Louis, the Avs don't have enough fire power to keep up. Their defense is mid-level at best, really bad at worse. Furthermore, when Varlamov inevitably gets hurt, they aren't going to have their backup goalie bail them out the way Johnathan Bernier did last year. I see them finishing fifth in their division and missing the playoffs. Not that it will matter because they're going to win the 'Lose for Hughes' sweepstakes through Ottawa.
Dallas Stars
They won their only Cup in 1999, on a Brett Hull goal that shouldn't have counted due to his foot being in the crease. But since his last name wasn't Sedin, it was allowed to stand, and one of hockey's biggest dicks finally won its ultimate prize.
Wakezilla – If Tyler Seguin and Jamie Benn weren't homophobes, it would be almost tragic to see this Stars team not reach their potential. This was mostly due to coaching. The Stars had Lindy Ruff and Ken Hitchcock as their coaches the past five years. Instead of really unleashing the offensive Krakken, Ruff and Fat Cock tightened the screws in order to try preventing goals from shitty goaltending. It didn't work.
With top prospect Valeri Nichuskin returning to Dallas, the Stars are going to have so much fire power, even a card carrying NRA member from Dallas will think it's too much. They have a young, talented defensive squad, led by John Klinberg, who might get 65-70 points this year. If goaltender Ben Bishop can stay healthy, I seem them placing as high as second in their division. With that said, realistically, they're going to finish 4th and be a Wild card team.
Minnesota Wild
A boring team in boring jerseys that wasted the best years of Ryan Suter & Zach Parise.
Nashville Predators
A fun team in a fun city who should finish 1st or 2nd overall again this year. They are absolutely loaded with talent, and their only flaw is hoping Pekka Rinne doesn't melt down in the playoffs again. (See: FLEURY, Marc-Andre)
They have the best rink girls / "clean team" in the NHL.
Plus, they're comfortable handling fish.
St. Louis Blues
The last remaining 1967 expansion team to not win a Cup (given that the Golden Seals & North Stars technically no longer exist). In recent years they suffered the grave misfortune of having to play the Blackhawks & getting waxed.

They finally got past the Hawks in 2016, only to get beat by the Sharks in the Conference finals.

They still have human highlight reel Vladimir Tarasenko, and added Ryan O'Reilly in the off-season.
Wakezilla – This is a darkhorse team to win the cup this year. They revamped their offense, adding Tyler Bozak, Patrick Maroon, David Perron, and Ryan O'Reily. Combine those players with Tarasenko, Steen, Schwartz and company, and that makes for a dangerous team to play against. On defense, the Blues have a nice mix of talented veterans and young players. As for goaltending, Jake Allen keeps improving each season by becoming consistently good in longer stretches. If he keeps improving, he might become a Vezna finalist this  year. No team is going to want to play the Blues in the playoffs.
Winnipeg Jets   
They have a similar ridiculous amount of young talent, but are doomed to finish behind the Preds again.

Meaning, again, the best series will not be the Conference final but the second-round when those two play.

Personal note: I spent three years living in Winnipeg while going to UM. For those who know the city, I lived in St. Vital and Fort Rouge.

I had a part-time job working at Wal-mart's photo developing studio, which was in the same industrial area as the old Winnipeg Arena.

For you kids, that was back when cameras had "film" that needed to be processed into "pictures".
I worked there one January, and saw an awful lot of awful "look what I banged on New Year's" photos.

Luckily, I never saw any child porn. But every time someone did come across it, there were meetings and grief counsellors. The descriptions I got were plenty bad enough, thank you.

WHY WOULD PEOPLE SEND THAT TO WAL-MART?!?!

I used to go to games on Friday & Saturday night, after my shifts. It used to cost $15 to get in & sit up by that picture of the Queen.

They also had the best street hot dogs, which you had to eat fast, because they tended to freeze within three minutes at -25 Celsius.

So, I will always have a soft spot for the Jets.
Litre_Cola – This offseason was quite busy for the front office . They lost Paul Stastny via free agency to Vegas which really was a no brainer. Where would you rather be in the winter? Right. That being said GM Cheveldayoff did tidy work this summer in re-signing Vezina candidate Hellebuyck, d-men Morrissey & Trouba for team friendly deals (Trouba is gone after this year which is a shame). The signing of Captain Blake Wheeler was a bit long for my liking but players actually want to play in Winterpeg because they are young, fast and have a chance to win every night. The wingers are the danger men on this team and the Jets are very deep. Connor, Ehlers, Laine, Perreault, Roslovic are incredibly talented and  fast. With the Jets rubbing up against the salary cap they need these supporting players to fill the net.
The window to win is right now as next year they are going to just give the Royal Canadian Mint to Patrick Laine, luckily The Mint is in the 'Peg.  Laine loves playing there as all he really does is play hockey and have a raging video game addiction so he ain't care about no -50 degrees. His beard was ridiculous but when he was drafted he was called by Winnipeg God Teemu Selanne that told him that Winnipeg is a great place for him to have a career. Here are his thoughts on the city.
Are the Preds better? Probably. Would we like to see that same series this year in the playoffs? Damn straight. In Wichita? Maybe. Because of the stupid playoff set up we will most likely see it again in the second round.
————————————-
Again – gun to my Beerguy head, the Final Four from this conference should be the Preds, Sharks, Knights & Jets, with the Blues having an outside shot. The dream Cup final would be the Penguins & Jets; the worst Cup final is Avalanche-Leafs.
Anyway, let's just enjoy the season. It fills in the nights between football. Thanks to those who contributed, and to you all for reading.