Good morning!
I have Wednesday off and my wife generously bought me a couple of bottles of Hungarian wine to watch the Hungary/Portugal match. Hungary actually makes pretty good wine. They're known more for their dessert wine, but, their regular wine is also quite nice. Now that I know Hungary has clinched a playoffs spot– which yours truly predicted in the Hungary Euros preview– I can drink today and not have to worry about the Cristiano Portugalandos take Hungary to the woodshed.
This is the last day of the round robin before we get into single game elimination matches. I always get a little sad on this day because I love day drinking and anything that distracts me from work.
Euro 2016 has been an odd tournament so far. I don't think I can recall a major international soccer tournament where every star (except one) has struggled to score goals. There have been tournaments where goals were hard to come by because teams played a more defensive style (World Cup 2010 and 1990, I'm looking in your direction), but, the stars still found a way to score. This tournament has seen most of the stars struggle to score, despite ample opportunities.
Cristiano Ronaldo immediately comes to mind, as he has had a few posts and a few shots that just missed the net. Germany's Thomas Muller hasn't scored a goal this tournament, despite having an excellent game against Northern Ireland. From the highlights and parts of the game I saw, Muller probably should have scored at least two goals. Zlatan Ibrahimovic , Robert Lewandowski and David Alaba all have failed to score in this tournament.
For the sake of entertainment and goals, lets hope that these players can get their stuff together once the playoffs begin.
Here are today's fixtures.
Early Morning games: Group F: 9AM PST
Group F
v
Austria
Thoughts:
I was disappointed when I found out that Iceland was placed in group F because that meant they were in Hungary's way to advance to the round of 16. Thanks to the New Ottomans  beating out the Czechs yesterday, Hungary has clinched a playoff spot–just like the old gypsy said– and now I can watch an Iceland match and cheer for them. Hurray!
Don't listen to the patronizing media narrative about Iceland being an underdog because of their population. These guys are good–as the Netherlands national team can attest– and if they get placed in the bracket opposite of France, England, Italy (more on them later) and Germany, they are more than capable of going on a run. They need midfield standouts Gylfi Sigurdsson and captain Aron Gunnarsson to step up and have a measty game. That's going to be hard for Gunnarsson because he's battling a nasty groin pull.
Austrian filmmaker Billy Wilder once said, "The Austrians are brilliant people. They made the world believe that Hitler was a German and Beethoven an Austrian." Thanks to this competition, they can also add underachieving favorites. As a result of this tournament format allowing the top four third place teams advancing to the round of 16–something that hasn't been done since the 1994 World Cup in America– Austria still has time to get their shit together and advance.
Austria has yet to score a goal in this tournament and that has a lot to do with David Alaba and Marko Arnautovic struggling to produce any offense. In defense of Alaba, he was placed in a defensive role against Portugal, which obviously doesn't help his cause. Austria's other top player, Marc Janko hasn't played because he has been struggling to maintain his fitness. Janko scored 7 goals in qualifying, so, Austria could obviously use him. A quick 15 second google search has media questioning Austria's manager, Marcel Koller, as to why Janko isn't playing despite being a sub in the Portugal match.   With so much at stake, I suspect Alaba will be placed as a striker and Janko to see playing time.
Both teams know they need to win, so I'm going to predict an entertaining game that sees Iceland defeat Austria 2-1.
Match 2: A Portuguese Pounding
Hungary
v
Portugal
Thoughts:
This might surprise you, but, I have Hungarian roots (I'm  actually half and Scotch-Canadian). When you're a lesser footy Millenial fan like myself, this stinks because I've never gotten to experience legalized drinking while cheering on my team as they have a match in the playoffs. Even the Factory of Sadness and the Ice Argos have made the playoffs once or twice in my lifetime. This is such a cool and foreign experience, I don't even care that Portugal is probably going to shoot up Hungary like it's 1956.
Perhaps it's the Curse of Turan in me, but, this game just seems like it's the one where Cristiano Ronaldo scores and starts to scorekakke all over the Euros.  Despite the internet taking a giant verbal and sometimes pictorial dump on Ronaldo, he's actually played really well. He, like most stars not named Gareth Bale, has been incredibly snake bitten.  Look at this stat: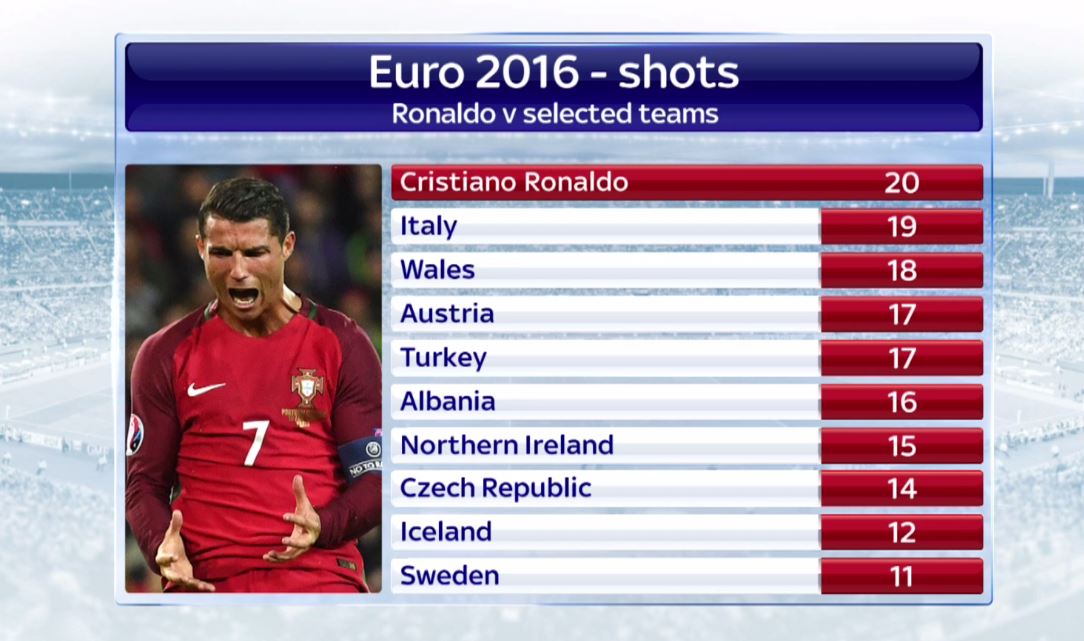 The crazy thing about this stat is, had he taken two more shot attempts, he would be in the top ten. Ronaldo is too good of a player to be held scoreless for three games while getting that many opportunities. With this being his last opportunity to win a Euro Championship while being in his prime, I expect Ronaldo is going to penetrate through the Hungarian defense and score faster than you can type Eve Angel.
If Portugal wins by three or less, I'll consider this a win.
Afternoon Games: Group E: Noon PST
Group E
Match 1: The Dilemma
Italy
v
Ireland
Thoughts:
For most of Tuesday, Lesser Footy media declared Spain was going to play Italy in the round of 16. Consequently, I really want Ireland to win and Belgium to beat Sweden by two goals so the media can have egg on their face. On the other hand, if Italy draws Spain in the round of 16, they'll be placed on the side of the bracket that also has England, France, Germany and potentially Portgual. That's hilarious and kind of makes me want lesser footy's media to be right.
Italy has already made the playoffs and are expected to start their subs. Hell, they even have a striker named Immobile playing. That's an omen!
With Ireland playing an over-rated team who are dressing their bench warmers (in all likeliness), and with the Irish being desperate for a win, I think there is a possibility for an upset. If the Irish are to pull off the victory, it will be because of Shane Long, Daryl Murphy and if he's healthy enough to play, Johnathan Walters having a great game.
Ireland also have guys named Brady, Seamus and Quinn in their starting lineup. Those are some strong, recognizable names to North American fans. Did they have these names in their starting 11 before? Maybe. But now that you know those names are playing, consider that an extra sign that an upset is happening!
/watches Italy beat Ireland 4-0
Match 2: Good bye, Rat-boy.
Sweden
v
Belgium
Thoughts:
This game will likely be Zlatan Ibrahimovic's last international game for Sweden. I know many of you like him, but, personally, I couldn't stand the guy. To me, he always looked like a rat. Of course, a lot of my hatred stems from the fact that early on, he burned me by no-showing in big games and later on, he burned me by scoring on teams I may have placed a wager on to win a tournament or a match. Furthermore, when Ibrahimovic had a bad game, he looked so uninterested. It was pretty aggravating to watch.
With that said, Ibrahimovic is an all-timer and I will miss his amazing highlight goals. I actually feel bad for Ibrahimovic because they have had him playing in the freaking midfield as opposed to his natural striker position. Holy shit, that's really stupid. No wonder he's retiring from international lesser footy.
Belgium is a really good team that is becoming hard to like because of the media's fellating of this team that hasn't won a damn thing. Many picked them to win the World Cup in 2014 and many have picked them to win this tournament. I admit Belgium is a very good team, but I'm not quite convinced they can hang with Germany, Spain, France (in France) or even Portugal in a knockout game. With that said, they're probably beating Sweden by a goal or two.
Enjoy watching today's games.
Here's a video of some of Zlatan Ibrahimovic's best goals.