A Canadian man-child of indeterminate age, he stays young by selling alcohol at sporting events and yelling at the patrons he serves. Their rage nourishes his soul, and their tips pay for his numerous trips to various sporting events.
Latest posts by Beerguyrob (see all)
NFL News:
Owners meeting rule changes:

They have come up with a new anthem policy:

The NFL will enact a national anthem policy for 2018 that requires players and league personnel on the sideline to stand but gives them the option to remain in the locker room if they don't want to stand. (The new Rooney Rule)

Individual clubs will have the power to set their own policies to ensure the anthem is being respected during any on-field action.
If a player chooses to protest on the sideline, the NFL will fine the player.

The player also could be fined by his team. (Probably the Bob McNair clause.)

As the King states:

"It was unfortunate that on-field protests created a false perception among many that thousands of NFL players were unpatriotic. This is not and was never the case."

The new helmet & kickoff rules have been approved.

The kickoff rules are the same that were modeled in yesterday's Open Thread:

Players on the kicking team cannot line up more than one yard from the point of the kickoff. The previous rule allowed players to line up five yards from the restraining line (typically 35-yard line), allowing them to have more of a running start before the kick.
The wedge block has been eliminated. Only players who line up in the setup zone (between their own 40 and opponents' 45-yard line) can put together double-team blocks.
Until the ball is touched or hits the ground, no player on the receiving team may cross the restraining line (typically its 45) or initiate a block. This forces blockers on the receiving team to run back and block, which greatly decreases the chance of an "attack" block that can result in a high-speed collision.
When the ball hits the end zone, it's immediately ruled a touchback. There is no need for a player to down the ball in the end zone to initiate a touchback.

The helmet rules have mandated ejection standards: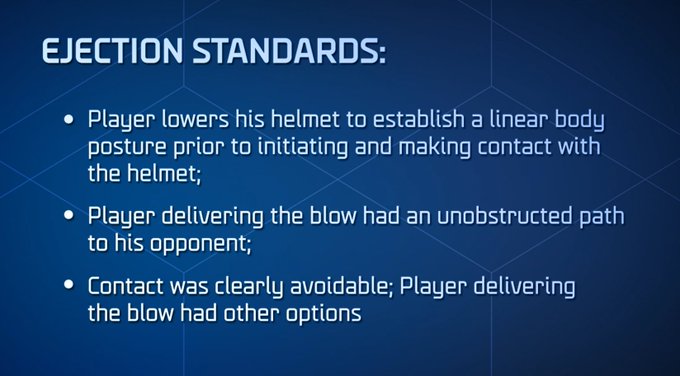 League-approved road trips!
Nick Foles

reworked his contract

so that it can pay him up to $14.0 million for 2018.

It's convoluted, but makes more sense than starting for the Browns:

He received a $2.0 million signing bonus for reworking his deal.
He gets $4.0 million in base salary.
He'll make $250K for every game he plays 33% of the total offensive snaps, and an extra $250K if the team wins the game.

Which doubles for playoff games.

So, if Carson Wentz returns in time for opening day, and Foles never plays a snap, he still makes $6.0 million.
LOL Chargers!

TE Hunter Henry tore his ACL in OTAs and is done for the season.
Available free agents include Coby Fleener, Brent Celek, and *checks notes* Antonio Gates.
Some talking head at Florio's word salad emporium had a good idea: ASk Doug Flutie about JFF's chances in the CFL.

Flutie said Manziel "will need to be all-in on football if he's going to learn the Canadian game in a short period of time and play well enough that NFL teams are interested in signing him".
---
Tonight's sports:
NHL:

Capitals at Lightning – 8:00PM | NBCSN / CBC

AHL:

2018 Calder Cup Playoffs: Eastern Conference Finals

Toronto Marlies vs. Lehigh Valley Phantoms – Game 3 – 7:00PM | TSN2

This is on Canadian TV because the Toronto-centric Canadian media need to fill in gaps where the Raptors should've still been playing.

CHL:

Memorial Cup: Regina vs. Swift Current – 10:00PM | Sportsnet

NBA:

Cavaliers at Celtics – 8:30PM | ESPN / TSN

MLB:

no national broadcasts in USA
Angels at Blue Jays – 7:00PM | Sportsnet / MLBN
Canadians get a triple dose of their national pastime, whilst Americans get none of theirs. Heading into Memorial Day? WHY DOES NO ONE RESPECT THE TROOPS?!