A Canadian man-child of indeterminate age, he stays young by selling alcohol at sporting events and yelling at the patrons he serves. Their rage nourishes his soul, and their tips pay for his numerous trips to various sporting events.
Latest posts by Beerguyrob (see all)
Risk. Anyone over the age of 25 remembers this game.
A child's game, but not a game just a child will play. Allow me to walk you through the process of how we got to this point.
This is Barron Trump,
Now, on the surface, he's a mild-mannered kid whose father just happens to be President of the United States. He goes to a good school,
has a loving nanny mother who provides for him,
fiercely protective older brothers & sisters,
and a dotard doting father.
He likes board games,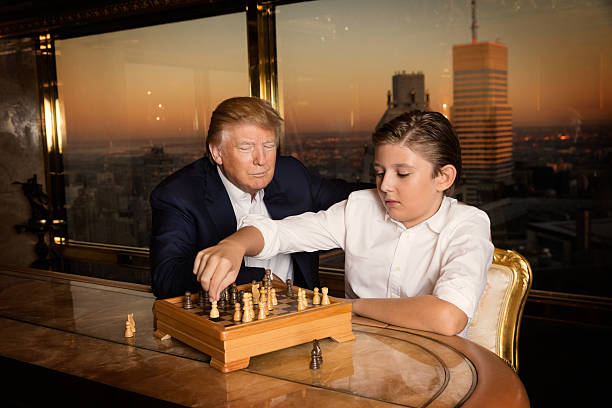 and his father is a board game.
But along the way, the son grew to challenge the father,
and the distance between them grew. Unlike the others,
this son was outpacing the father.
So far, so good, Mr. Jones?
We all know Donald Trump plays to win,
Many people are afraid to fail, so they don't try. They may dream, talk, and even plan, but they don't take that critical step of putting their money and their effort on the line. To succeed in business, you must take risks. Even if you fail, that's how you learn.
and what is the greatest victory? World domination. And to dominate the world takes risk.
Listen to your gut, no matter how good something sounds on paper.
The father cannot beat the child at the father's own game, an intolerable offence. He cannot be second – not to his child, not to anyone. So, if he cannot win on the board, he must win in the real world. If Risk is "the game of strategic conquest", then being President demands you raise both the arena and stakes. Mostly so you can raze the arena, as firewood to cook your steaks well-done.
Plus, if you've had enough beers, the Trump board game board
looks like the Dune game board,
which then looks like the Risk game board.
SEE?!
---
(To follow along, turn on "Dark Side of the Moon" while watching The Wizard of Oz.)
Here are the territories involved in Risk.
How he sees them dictates how he treats them via foreign policy.
North America:
Palinstine. Give to Israel like Pence asked.
West Canadastan. Like other Virginia.
Wall payers, Drug dealers & Shitholes
Mostly voted for me. Own lots of it. Fix after storms.
No properties.
No properties.
Canadastan. Money has a girl on it.
Kwee Beck. No habla Frenchy.
Damned liberals wouldn't give me an Emmy. Get Kim to nuke.
Sorry don_t, no Puerto Rico on this map. So it's either been fixed or it clearly doesn't exist, like these so-called "Houston Texans" the NFL keeps talking about.
South America:
No properties.
No properties.
No properties.
No properties.
This just goes without saying: no interests; no interest.
Europe:
Talk like us; spell different.
Vikings?
Good people with a noble history. Misunderstood.
Preferred immigrants. Difficult furniture.
Wifelandia.
Where my bankers live.
People dad exploited. Where Mexicans came from?
The crux of his foreign policy is based on what he can get from these regions, and in turn what these regions can do to help MAGA.
Africa:
Shithole.
Shithole Obama came from.
Shithole.
Island Shithole.
Shithole.
Shithole. Won't buy back my Krugerrands.
But he's not racist!
Asia:
Whogivesafuckistan.
Where my clothing line is made.
Where NYC cab drivers are made.
Where Vlad promised to "house" Hilary.
Japs.
Alaska?
Muslimstan. BANNED! (said in "YOU'RE FIRED!" voice)
Where Rocket Man comes from.
Why I had bone spurs.
Alaska?
Oral Mountains. A natural wall keeping undesirables out of Europe. (Note: talk to Zinke & General Semen Semonite at the A.C.E. about building mountains along border.)
It runs the whole gamut of foreign policy emotions, from who's exploiting America to whom America can exploit.
Australasia:
East Kangaroo.
Indo-…Indo-… India.
Hawaii.
West Kangaroo.
Doesn't matter. He will never travel there because he doesn't want to receive a booting.
There you have it. Donald Trump: petulant, reactionary man-baby. Driven to frustration by a son who has surpassed the father, the only way he can feel like a man again is to beat the game in real life, where there are no consequences.